Some women buy lipsticks in a recession and others might buy boxes of chocolates, but when faced with a slightly dodgy wage slip, I buy tights. I can't sing the praises of this stretchy yet fragile form of legwear enough; they make legs a little bit more interesting and a personality shine through when wearing the most understated of outfits. My first act of rebellion was sporting aubergine coloured tights at school amongst the sea of regulation black. At first, I was annoyed my Mum had bought them for me just because they were reduced, but I guess they provided a talking point and proved that I like to do things a little bit differently. An inexpensive way to update a wardrobe, they are the purchase that I've been frequently making this month, so here are my recent confessions.
Apologies for the blurry picture quality, my camera is pretty suicidal at the moment. Slightly better photo here.

One thing that I'll be doing a lot of this season, is layering up different kinds of tights. Most of the 'fashion' styles are rather sheer, for example this cobweb pair from Urban Outfitters are practically non-existent, and my Mum was somewhat bewildered as to the £12 price tag (they've now gone down to a
fiver
in the sale, which is just my luck). Undeterred, I teamed them with some plain grey Pamela Mann tights, which are warm enough at 50 denier and wore them for a chilly day at work. Unfortunately I did manage to snag them at the back, but who's to notice?
These
Asos Side Net Tights
were part of a random Friday night spree, an afterthought to try and qualify for the free delivery threshold, which I didn't end up reaching anyway. When the order arrived and I teared open the package like an excited youngster, I couldn't imagine why they weren't the reason for the order in the first place. They are pretty similar to the Mark Fast
freebies
that some lucky fashion people received and remind me of the good old loops of knit structures. The layering possibilities are endless, and I quite like the Op-Art effect of your eyes going a bit funny if you stare at them for too long.
All from eBay; Black and White two-tone Jester tights, think Chanel gone a bit wrong; Mary Quant sheer spot tights; Pamela Mann map of France tights
just in case I get lost.
Somehow the idea of spot tights subliminally entered my mind. Methinks the
Balenciaga A/W 2009
collection had something to do with it earlier this year, but also some fellow fashion bloggers such as
Flying Saucer
and
Diamond Canopy
, resulting in me wanting a pair but not quite knowing why. Now I've had time to think about it, sheer tights have always seemed a bit saucy to me, as they usually have the seam down the back and seductress connotations, but the added polka dots add a cute/fun factor that fits in with my personality. I bought my first
Charnos
pair last month, but after a heavy eBay browsing session I noticed a vintage Mary Quant version for £3! They are even better quality than the Charnos pair, with a reinforced toe and a nice sheen, so at least I know I have a back-up just in case I fall over and end up ripping them. The black and white jester tights were another fun find, inspired by
Yishyene
and I bought the Pamela Mann Map of France tights for pure comedy value. I think this is the best way to increase your eBay feedback rating, in fact I've just found another pair while writing this post, hopefully taking me closer to the elusive turquoise star. Off to the tightsaholic's asylum I go...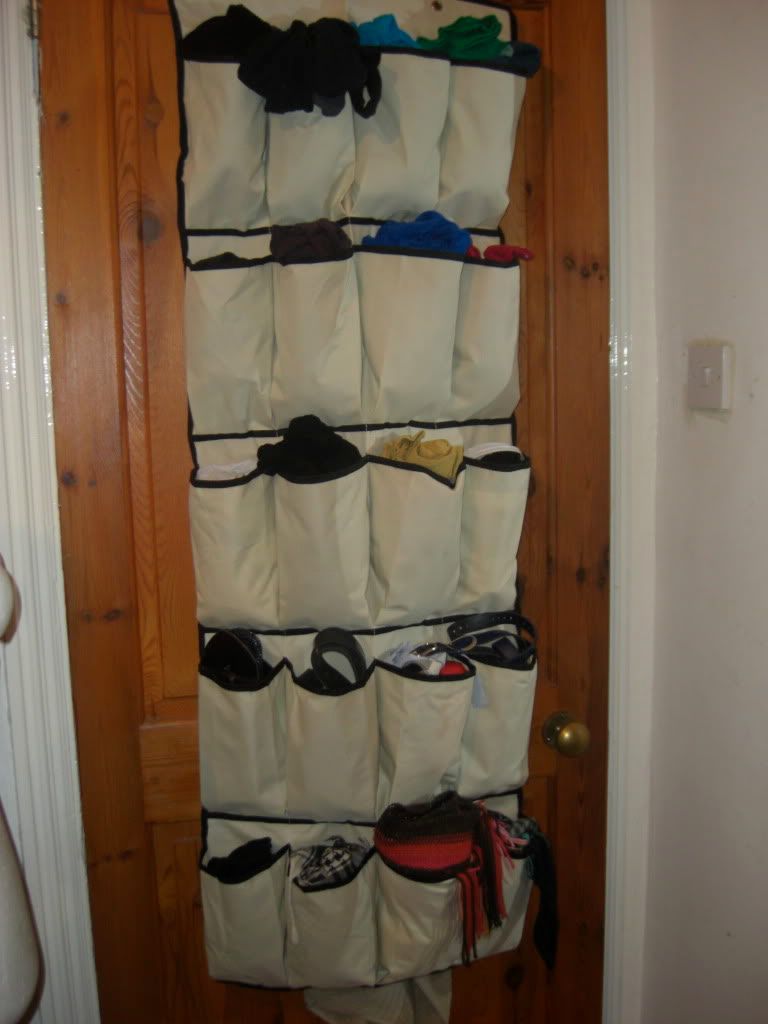 This is my solution for storing tights and accessories, though this organiser thingy is almost at full capacity and will probably fall of my door any minute now. I had hoped to organise by colour, but that's gone out the window...
On another less fun note, I failed my driving test again after totally messing up my usually perfect parallel parking manoeuvre. The moment you realise that you've definitely failed during the actual test is a difficult one; I wanted to give up there and then and get the bus home. Each time I've been tested, I've had a fairly nice male examiner (this one kept calling me poppet, obviously not a good sign as I'd failed by this point) and a straightforward route, so next time I'm expecting lots of hills, reversing around the corner and a grumpy examiner named Mabel. Hopefully it'll be third time lucky, and my vision of driving my friends to
Bicester Village
can become a reality...
Follow on bloglovin...