There really should have been a picture of presents here, but I forgot and they're all open now. Luckily everyone liked their choices; I got some money as I'm boring like that
...
Is it too late to say, Merry Christmas? This time of the year always catches me by surprise, moreso this year due to my impending move. I've been too busy sorting out clothes, currency and various other things to get excited about Christmas, heck I didn't even do a blog wishlist like
last year
. Trying to get your head around moving away during the craziest time of year is tricky, as everyone's focus is elsewhere. It's rather strange to watch people stressing out about buying the right gift voucher for their offspring while I'm worrying about not seeing family and friends for seven months and being pushed out of the comfort zone of South East London.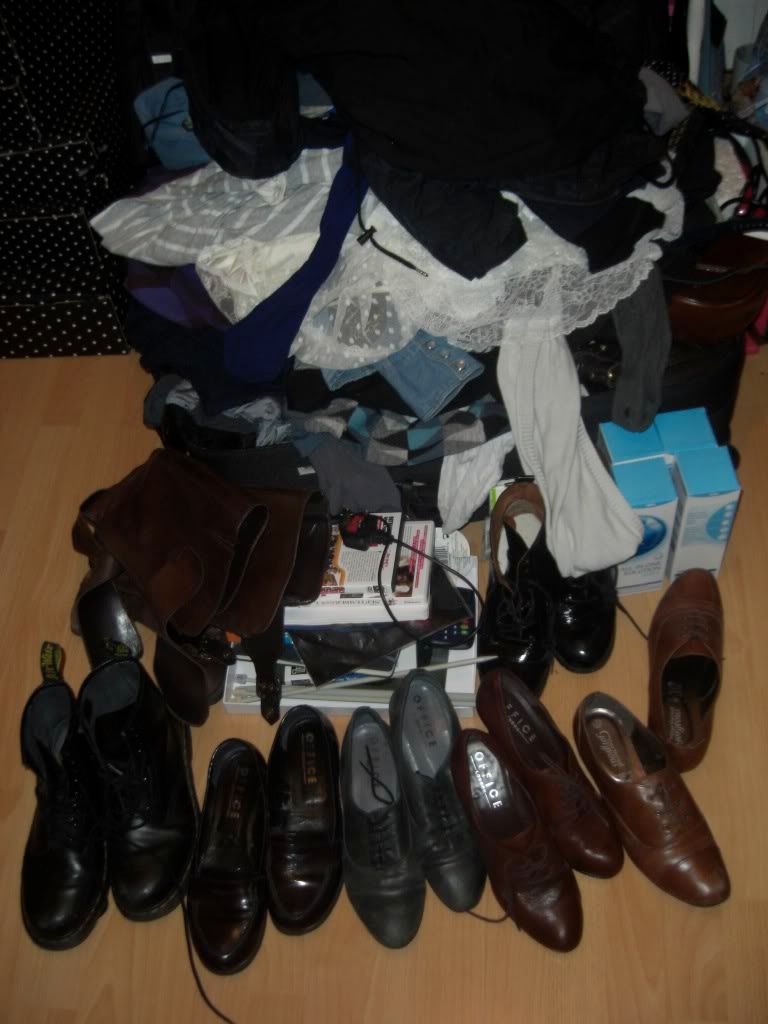 The streamlined collection includes lace, floral and polka dots. Not sure about whether to bring the Map of France tights, yay or nay?
Of course I had to write about the packing; I typically never travel light wherever I go but this journey must be an exception. I am basically trying to narrow down All The Things I Want To Take, into a more manageable amount, considering that I'll be buying new bits as soon as I touch American soil (I may have started already, but we'll discuss that next week). I guess I'm starting to regret buying so many tights in the past few months, since having to narrow down my
vast collection
to around 16 pairs is heartbreaking. Despite this, I'm looking forward to moving to NYC as all of the prices I see in dollars on blogs will finally become relevant and be able to put my dodgy American geography to the test. The last time I went, I was 15 and in the
grunge/skater
phase, so brought little back in the way of decent clothing as my style wasn't yet defined. It was also during a pretty sheltered school trip so I had no idea where I was going or the extent of what there is to see and do, so I'm looking forward to discovering new places and getting to know the city as well as London. I'm also trying out a
Topshop
ban while I am there, as I resent the higher prices (and lack of staff/uniform discount) so will try and supplement the
Topshop
loving for
Urban Outfitters
.
I'm not really having a blogging break, but I may need a bit of time to sort myself out and get my bearings when I arrive. I'll be
twittering
bits of my airport journey as I'm flying solo, so hopefully all goes well and by the next time I post, I'll be in New York!
Merry Christmas to you all! Hope you had a great day and ate lots of yummy stuff!

Bloglovin
Facebook
Twitter