There's something quite inspiring about menswear; even though it is said to lack the creativity of women's fashion, I love how it is often understated with clean lines ripe for mixing with other garments. Being stuck in a permanent wintery state, I have noted down all the elements of the Fall 2010 (see I'm getting Americanised already) mens shows that need to translate for the opposite sex. I promise I'll post more summery things when the random snowstorms stop.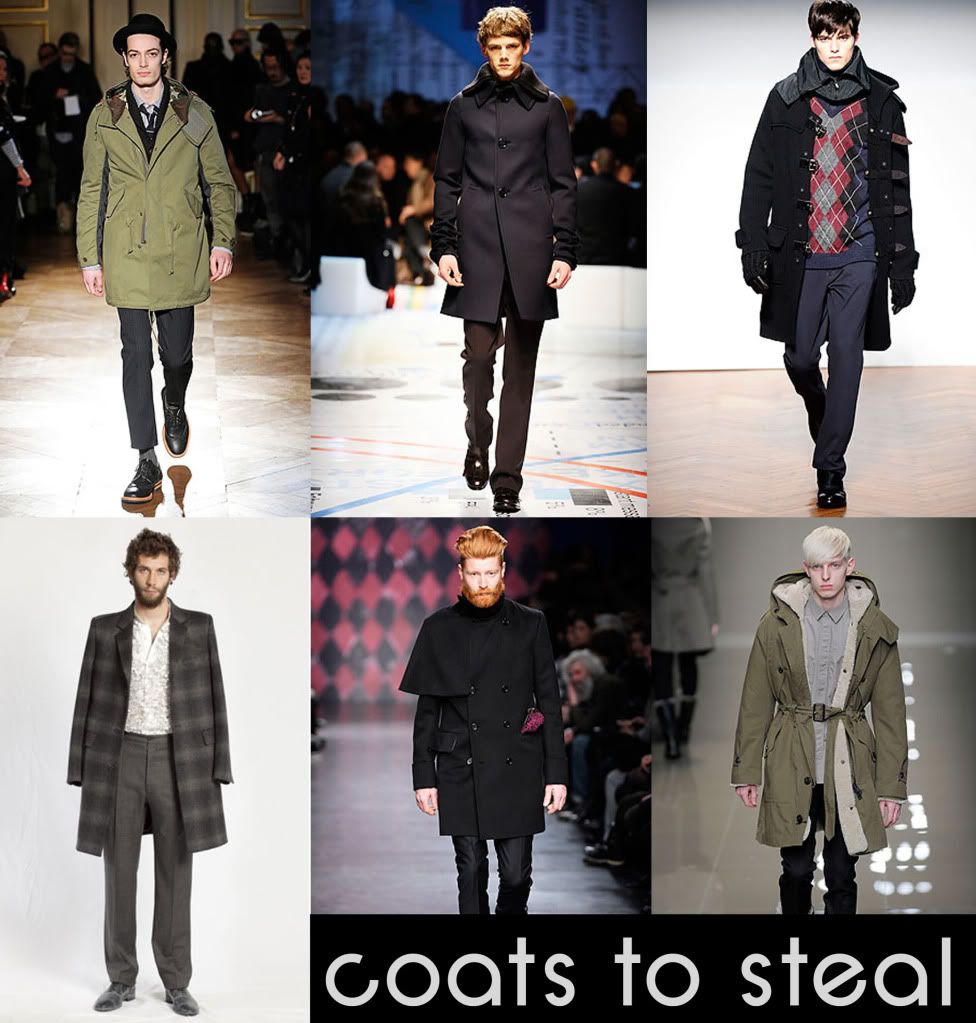 You know I'm obsessed with finding the perfect coat, may not have had this problem if I were a bloke; l-r Junya Watanabe, Prada, Pringle, Maison Martin Margiela, Paul Smith, Burberry.
There has been a lack of knitwear on this blog recently (I hope you'll be pleased to see the Knit of The Week feature back in the sidebar) so I'm spoiling you all with the techniques I'd love to see more of. l-r; Pringle, Alexander McQueen, Burberry, Iceberg, Burberry, Y-3
This was all the random stuff I liked, print and shape-wise, I feel like I need a whole new kind of blazer. l-r etro, Maison Martin Margiela, Paul Smith, Alexander Mc Queen. All images from GQ.com
Y-3 AW10 preview in Paris, the theme is
'Tradition vs. Future'; can't wait to see more!
Speaking of
Y-3
, I've managed to secure a standing ticket for the show at New York Fashion Week! I'm so excited, and it should be interesting if the above Paris preview is anything to go by and I can't wait to see what the womenswear is like. I'm also going to try and go to the
Independent Fashion Bloggers Evoloving Influence Conference
on Feb 15th, as I'm 99% sure I have the day off, so let me know if any of you are planning to go.
I've now been in New York for a month and am looking forward to what February holds, even if the snow does gets crazier; Fashion Month is coming!
Bloglovin
Facebook
Twitter