In order to make this blog a bit more 'regular' with some kind of weekly planned feature, I have decided to create 'Outfits of the week' or OOTW for short. Basically I will try and take an outfit photo every day, regardless of what state of tiredness I'm currently in and narrow it down to showcase my favourite looks of the week. Narcissistic much? Hopefully this will help to understand a bit more about my style and how I wear all the clothes I'm constantly buying (especially during these freezing temperatures). It'll also help me see how my style is evolving; isn't it weird when you look at older pictures of yourself and wonder 'What was I thinking?' Now I have this blog to understand why.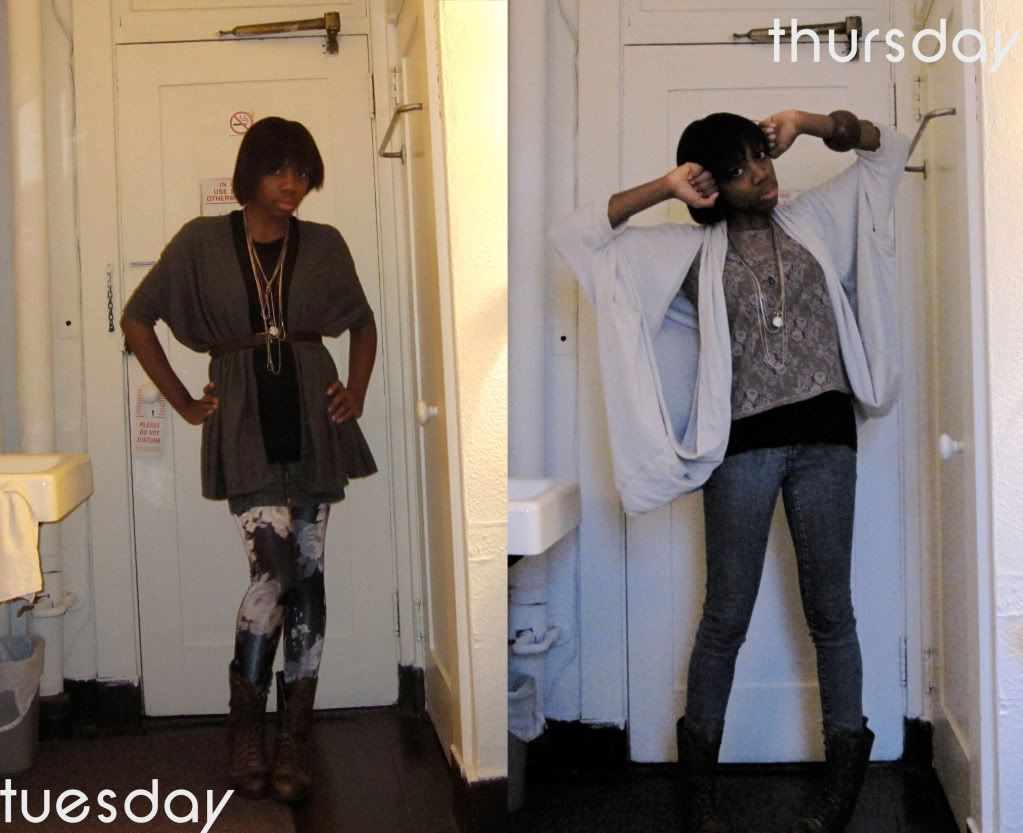 Tuesday
Cardigan, leggings, skirt - Topshop
Mesh tee - American Apparel
(with a really old vest worn underneath to prevent flashing)
(Londoners please visit this for me)
Boots - Steve Madden
Jewellery - Mainly Freedom and Marc Jacobs
Thursday
Cardigan - Mbym via Joy
Lace top - New Look
Vest, Jeans - Topshop
Boots - Steve Madden
Jewellery - as before
Saturday (day)
My Mum finally sent my new glasses, my attempt at geek chic. I'm very short-sighted.

Denim shirt, knitted tank top - Topshop
Thermal long sleeve - Uniqlo
Striped Top - Zara
Necklace -
Pema
boutique in Brooklyn
Leggings - Charity shop
Socks - New Look
Boots - Steve Madden
Saturday (night)
Worn to the Coyote Ugly bar, haven't actually seen the film; better add it to the list.
Yellow Jacket - Beacons Closet
(yes I went back, will explain all in the next post)
Leotard - Asos
Belt - Vintage
Skirt - H&M
Tights - House of Holland
Boots - Jeffrey Campbell
Jewellery - That much loved Freedom and Marc Jacobs combo
Conclusion: I wear the same boots and jewellery all the time. Funny that, though it makes the cost per wear almost non-existent.
Hope you all had a great weekend!
P.S Finally finished tweaking the blog layout; I suggest this one as a good place to start if you're thinking of a change. It's all just trial and error basically.
Bloglovin
Facebook
Twitter