There's a lot of love out there for
Tim Burton,
and his sell-out retrospective exhibition proves it. It's been on at the
Moma
since December, but I just had to pick it's final weekend to visit the most crowded exhibition since time began (beating Kylie at the V&A hands down) and the one with the most rules that just had to be broken. No photography was allowed (though that never stops me, despite a random old man telling me off whilst snapping), no mobile phones (luckily a quick phonecall which interrupted my train of thought went unnoticed) and I was ordered to follow the queue/line around the room (which I sporadically left and rejoined whenever I saw something exciting). My main agenda was to get some fashion inspiration of a more surreal nature, so armed with a hidden camera and sketchbook, I set about jotting down some observations and understanding more about the genius himself....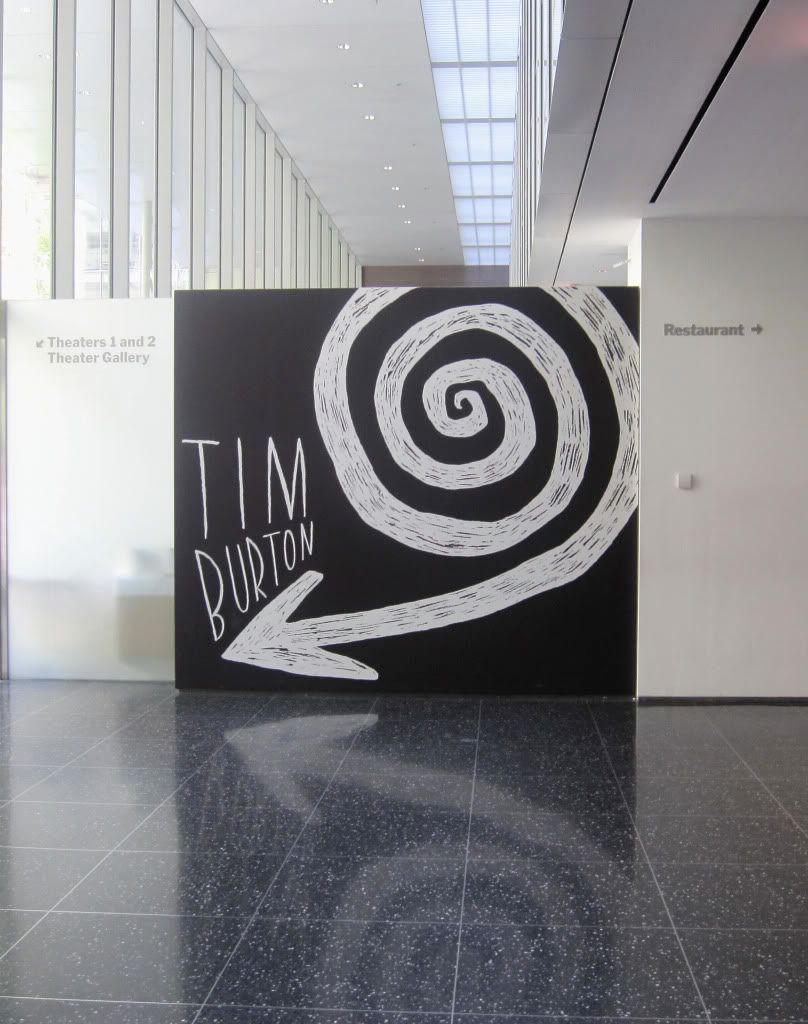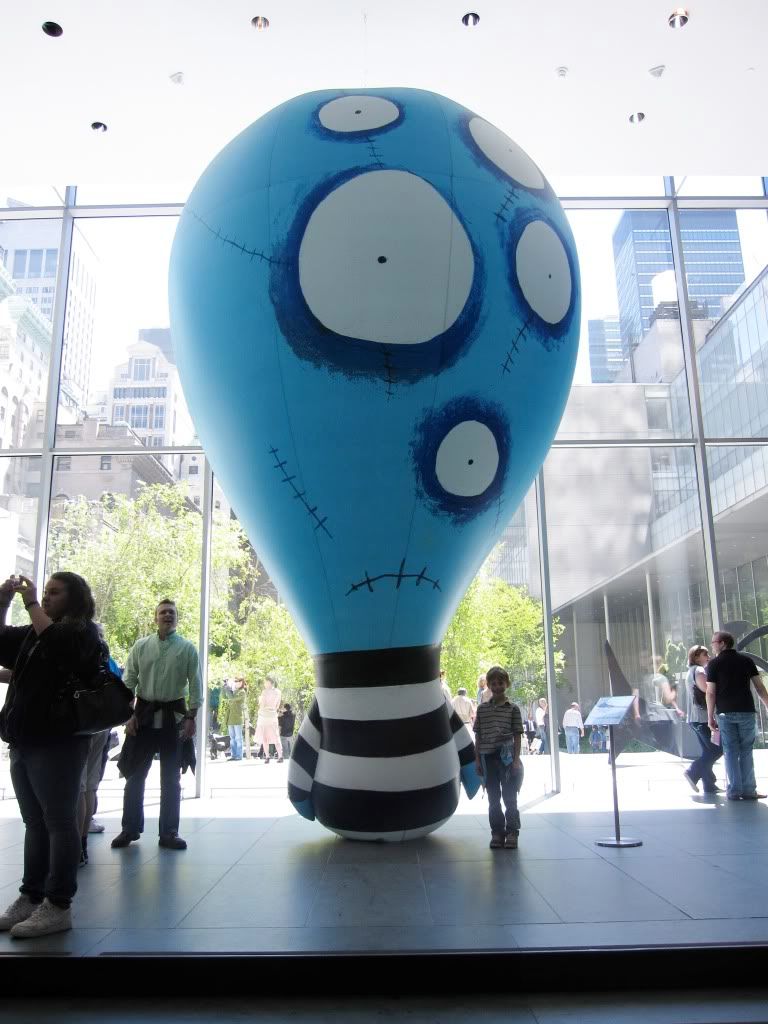 Who the random child is, we will never know.
The exhibition takes you through the various stages of Tim Burton's life, from small-town beginnings in Burbank to one of his first jobs working at Disney. No stone was left unturned, with various doodles, scribbles and even competition entries ripe for inclusion and I definitely became a fan of the surreal nature of his drawings. The personal nature of illustration means that everyone has their own quirks and his were notably playing with the shape and proportion of his subjects, making them into creatures rather than a more realistic interpretation. Certain patterns, such as stripes, checks, skulls and spots were present in many of his works and I couldn't help wondering what certain scribbles would be like used as prints on skirts, blazers or even tights. I wonder if any designers will be inspired by his work for Fall 2011?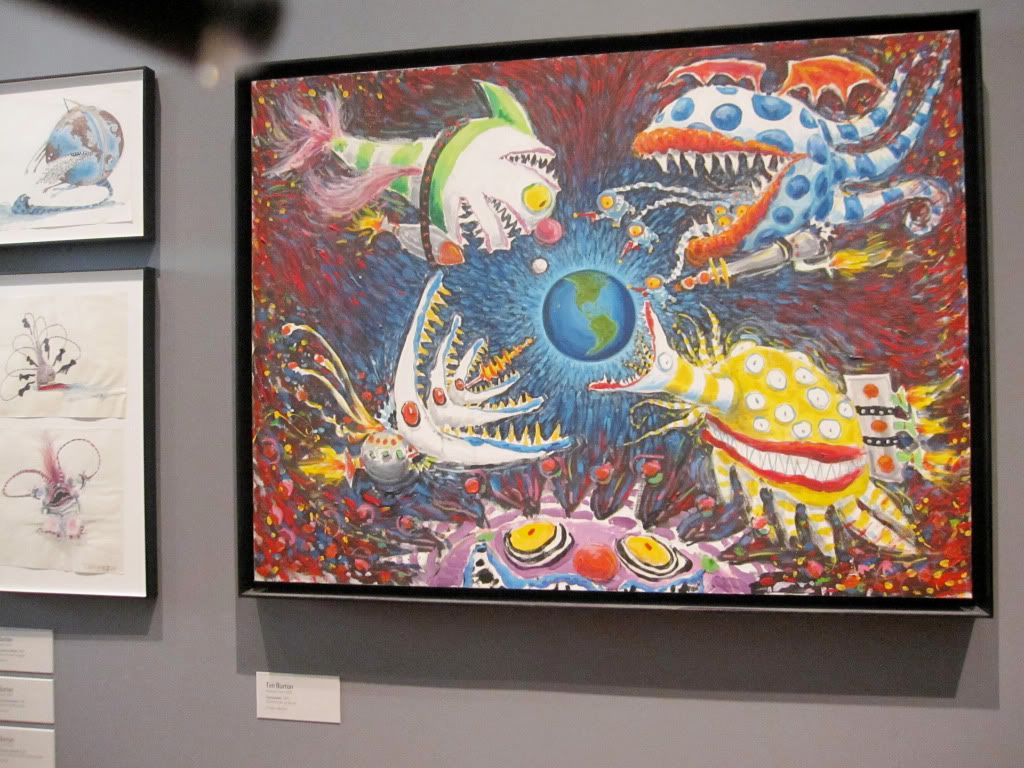 Talk about mixed media; Burton used pencil, pastel, indian ink, regular ink, acrylic, oil and tempera paint, fineliner, coloured pencil, watercolour, wash, crayon, marker, glitter and Tippex to create many of his drawings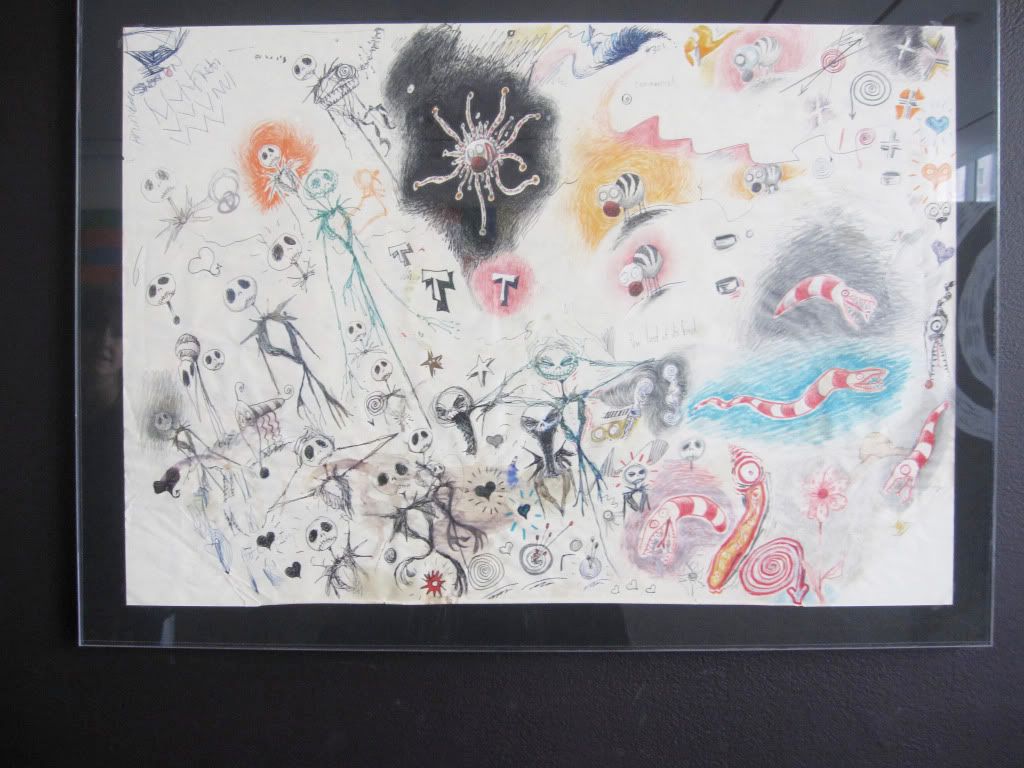 As you progress through the exhibition, you see more evidence of the growing popularity of his work as he uses translates his vision into films such as The Nightmare Before Christmas and Edward Scissorhands. I couldn't get too many photos here, but there were a few models, costumes and props displayed, including the sinister pram from Batman Returns. The main fashion focus were the generous amounts of aged leather, buckles and hardware providing the gothic, other-worldly look sported by many of his characters.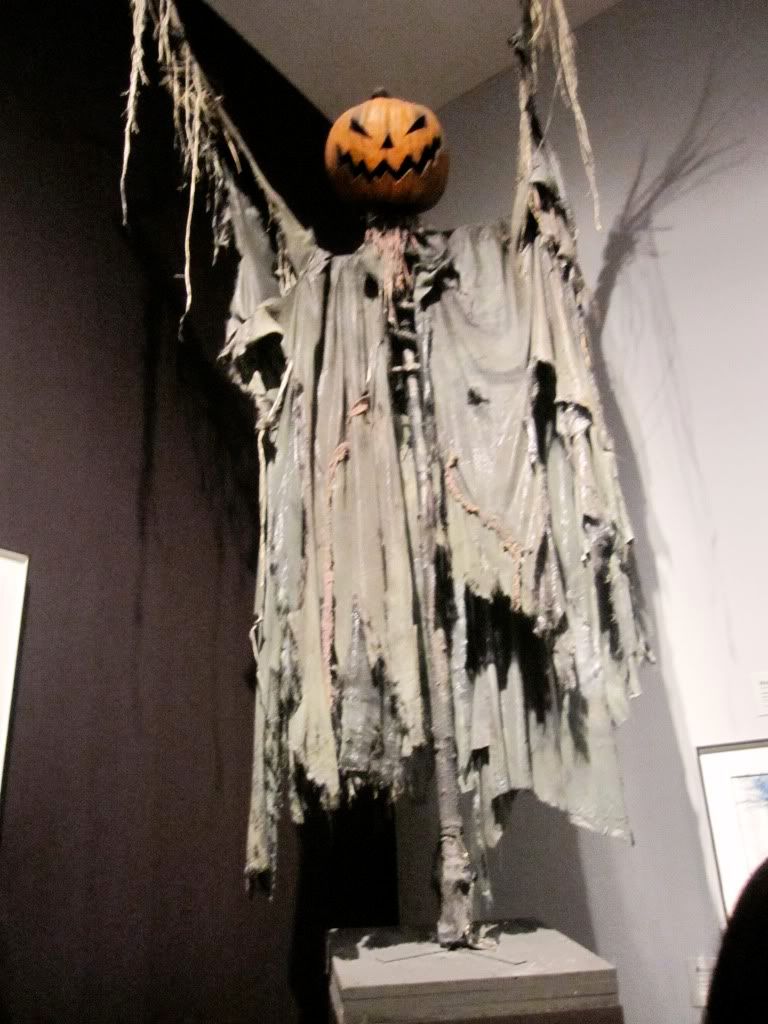 The scarecrow from Sleepy Hollow has probably seen better days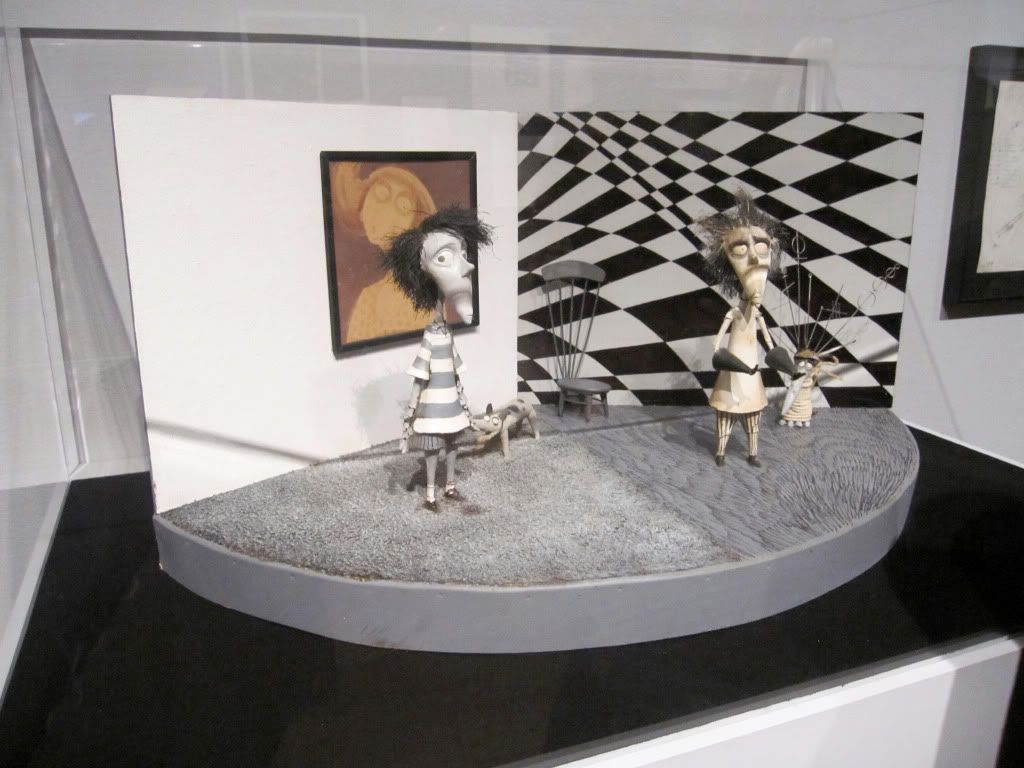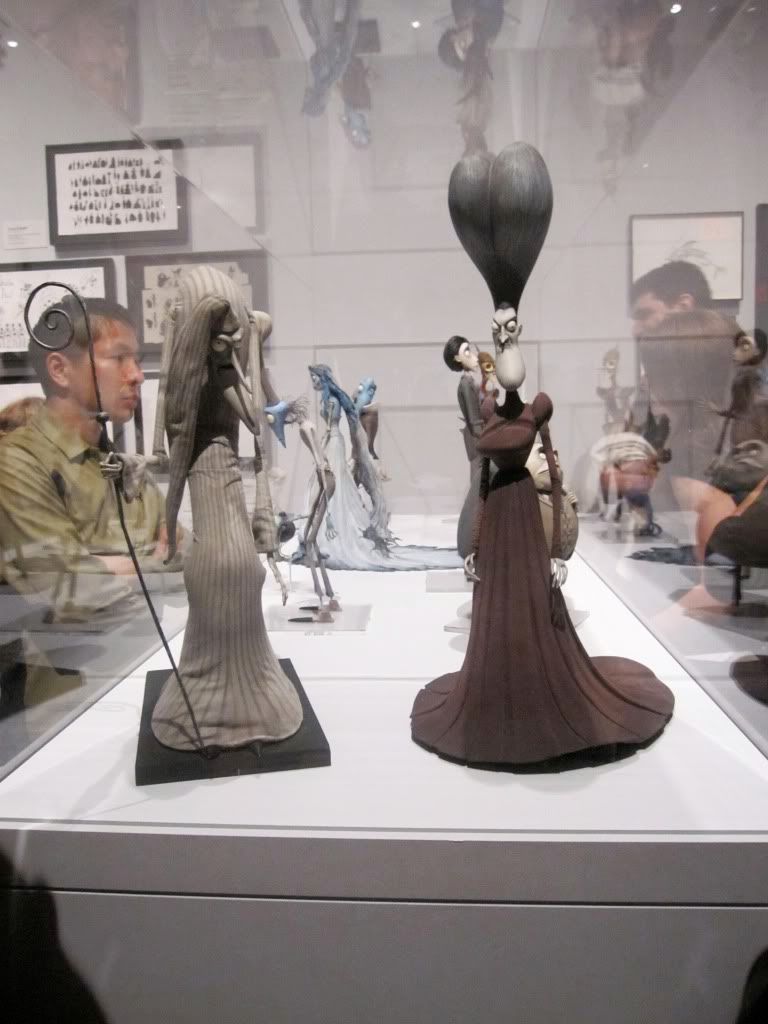 I had an inkling that I would leave the exhibition with some kind of enlightenment, but I was previously unaware as to how such a unique point of view came to exist and develop into the films we watch today. You could never accuse him of selling out, as each new picture takes on his typical traits regardless of subject matter and instantly seems like the perfect pairing. Is it crazy to think that the Harry Potter films would've been an ideal match? Never mind, note to self; find some old horror movies, become immersed in Japanese monster culture and create a fantasy world using crayons and chalk, for some final year collection inspiration. What are your favourite Tim Burton films? I haven't seen them all but I'm definitely planning a movie marathon at some point; let me know your recommendations!
More photos are
here
...enjoy the weekend!
Follow on