Random fact, this post where I explain how to
knit a circle scarf
is the my most popular and searched for item on this blog. I do worry slightly that there are numerous disappointed knitters when they see that I don't write about knitting too often but despite my wandering eye, this craft will always have a special place in my heart. I am so obsessed that my first thought upon hearing the
Royal Wedding date
was 'Oh dear, that's literally weeks before our graduate show, I hope the University doesn't close....' I can imagine non-knitters euphoric about the nuptials and me, slightly delirious with broken fingernails and bits of yarn tied around my leg. I even did the unspeakable and exclaimed during Harry Potter 7 about the
fairisle
and
cable
jumpers that Hermione managed to cram into that beaded bag for herself and the boys, sending her character up even higher in my estimation. Anyway back to the point at hand, I've decided to do a follow up knitting post as this got such a great response last year and to introduce you to my new knitted cowl.
The bobbles that got away
It wasn't always going to be this way. I did experiment with knitting bobbles and I was envisioning a huge bobbled scarf to make me look like some kind of sculpture, but it was just taking too long to make. I hope to try this technique again at some point or at least have a really long train journey (perhaps to Scotland) where I can attempt this properly. In the meantime I will gift this swatch to my little sister, as she is always fascinated by my knitted cast-offs.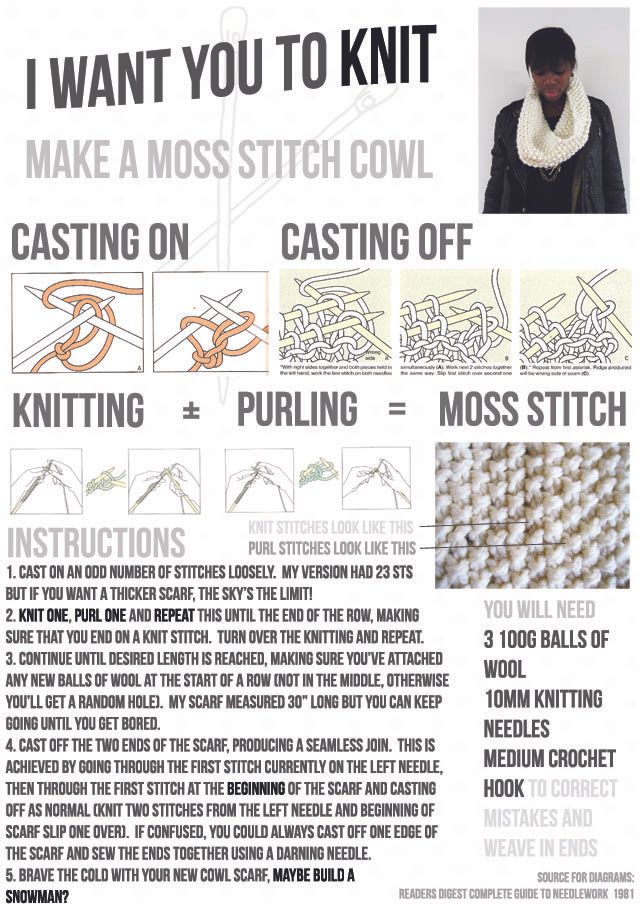 More knitting advice here, so you don't even need to follow my brief instructions. You could just keep knitting every row and see what you end up with...well garter stitch. Again I bought my yarn here, but if you have a knitting shop, John Lewis or even a knit-friendly charity shop store near you, it's worth having a gander. If you really are stuck or confused by my instructions, comment or even e-mail me.
Normally I like huge scarves but after knitting solidly for a few train journeys and having more important knit-related work to do, I decided to cast it off and leave it as a cowl. Although it's pretty thick, I like to leave no scrap of neck uncovered in the winter so I might wear a contrast jersey scarf underneath for maximum warmth. I think if I had cast on more stitches, it would've been a lot thicker but I'm still happy with the shape and will bear this in mind for next time. Also, when worn with my leather jacket, I can squint in the mirror and pretend it's the
expensive Acne number
.
See I can pull faces too...
Did anyone make the scarf from
last year
? I'd be interested to see how my instructions served you and whether you try this again this year. Maybe you've created something completely different, yet equally warm like
Pinkbow's crochet number here
. Let me know in the comments!
Any Trent students reading this? Say hello if you see me!
Thanks for all the comments on the
previous post
, most comments ever! Happy days!