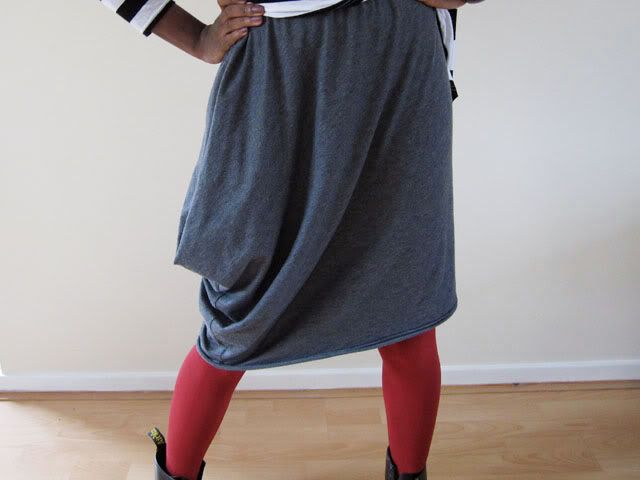 Don't ask me what I'm doing in the second photo, the joys of posing in front of a tripod...
Monday
Jewellery - Brooklyn, Gogo Philip, DIY, Topshop
Another attempt at trying to inject a bit more colour into my life through the medium of hosiery. It's tricky as I'm always buying things in black, white and grey (practical colours) and then wondering why everything I have is so dull. Even most of my tights are sheer black, which is all well and good but I do love a bit of colour! On a recent visit back home I found a long-lost mustard pairs which I'm determined to start wearing again, but I want something a bit crazier, maybe like
this
? Another addition for the Christmas list methinks. Do you tend to veer towards neutral colours subconsciously?
Wednesday
Tops - Oak, Uniqlo Heatech
Skirt - Charity shop
Belt - Battersea Boot Fair
Tights - Zac Posen for Wolford
Jewellery - Brooklyn, Gogo Philip, DIY, Topshop, Primark
Don't you just hate it when leather jacket weather passes you by? I'm determined to hold on by the skin of my teeth, due to this offering
Vero Moda
so kindly sent me. They recently opened a flagship store on
London's Oxford Street
, which boasts the directional
Very
range that unfortunately doesn't reside in my local branch, so a trip to the shopping mecca is definitely needed (if only to feel
these leggings
). Back to the
jacket,
it's a gorgeous suede mix and looks pretty decent when open in a waterfall style or closed like some sort of Matrix character. Luckily I made it warm enough with a vital
Uniqlo Heattech
layer underneath and I will continue to wear it until some sort of flu prevents me from leaving the house. The pleated Maxi skirt is a recent charity shop find and was a bargainous £3! I'm pretty glad as I've been looking for a light coloured maxi for a while and had previously been coveting this
number.
Covet no more. I do wish I'd worn it with heels, as I didn't really like the full length photo, but hopefully you get the idea.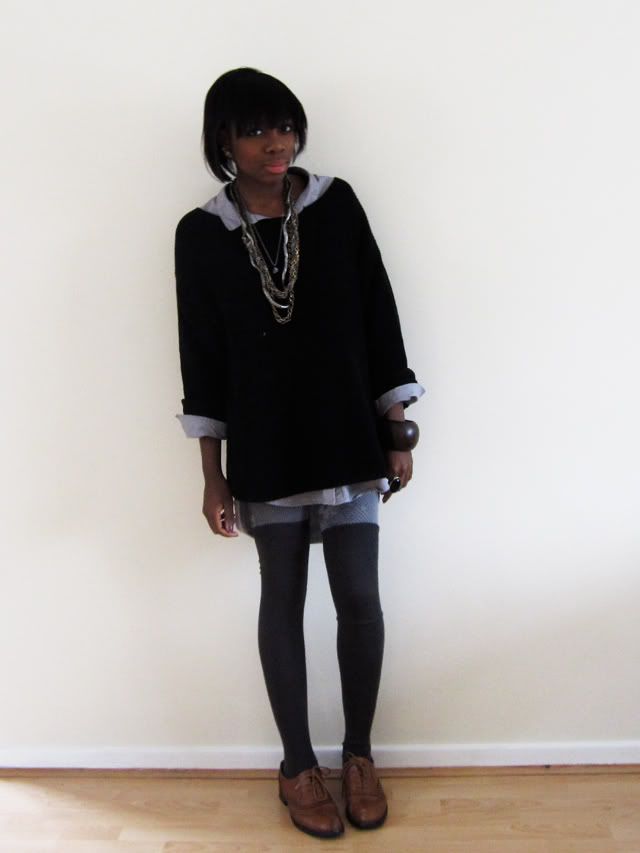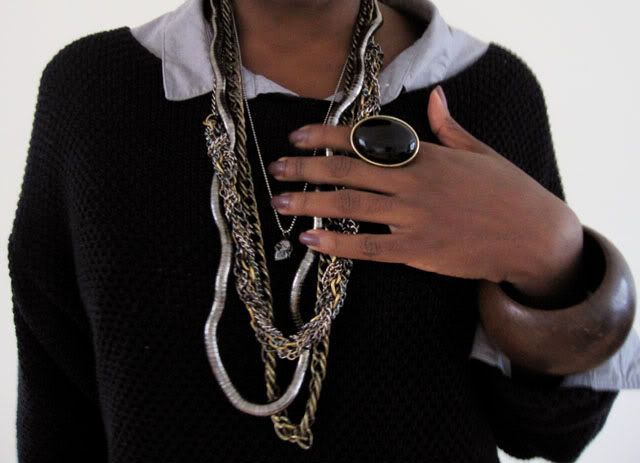 Thursday
Shirt - Weekday via Beacons Closet
Tights - Urban Outfitters
Jewellery - Brooklyn, Gogo Philip, DIY, Topshop, Marc Jacobs
Nails - Models Own Purple Ash
I stupidly only brought one jumper up to Uni and the knitting machine did attack it slightly on the sleeves, though it's barely noticeable and if anything adds to the grungy look. I'm tempted to revert back to my
multiple
tendencies and go for
a lighter version as well
. Everyone always asks why I don't knit my own clothes but the truth is, there's not really the time (or desire) for it when doing lots of coursework and a it's just a lot easier for me to find something in a shop. I hope to make a few items for myself once I've finished my degree, since I now have the skills to do so, but until then the questions shall continue. My friend even asked me if I had to knit a jumper for my dissertation! If only! I'm surrounded by marketing books at the moment and racking up library finds galore.
Sunday
Nails - Models own Grey Misty Grey and Barry M Nail Effects
I couldn't keep away from the
Barry M Nail Effects
for long and went back to one of my favourite combinations of light vs dark. Again, I seem to have bought a lot of muted nail polishes recently but they are ideal for being jazzed up with the topcoat or even these
nail art pens
. Who else has ordered them? I'm going to wait a few weeks as my online shopping addiction is getting a bit ridiculous now, with Asos and Forever 21 parcels coming soon. I ordered
two
dresses
and will definitely let you know how I get on; hopefully that's the festive wardrobe sorted...
Follow on